Feature Film: The Wizard of Mars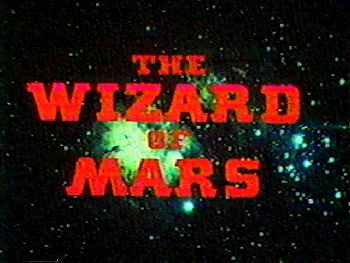 The promising opening titles of "The Wizard of Mars"

Color/Length: Color, 85 minutes.
Release: 1965.
Distributor: American General Pictures
Starring: John Carradine
Plot Summary: Astronauts crashland on Mars and discover the remnants of an ancient civilization, including the last living Martian, the Wizard of Mars. A diminishing supply of oxygen threatens the lives of the four visitors, who experience other phenomena paralleling those in Lyman Frank Baum's Wonderful Wizard of Oz. - summary provided by American Film Institute
Tom Connection: In 1964 after his return to California, Tom became the editor of this David L. Hewitt helmed film. Presumably he landed the position due to his friendship with cameraman Austin McKinney, whom Tom knew from UCLA, and who had worked on his first film Toast to Our Brother. Unfortunately due to a career-ending ridicule by LA Times columnist Joyce Haber, this was to be Tom's seventh and final production.
Film Availability: The film has been out of print for almost two decades, but VHS copies and bootleg DVD transfers can occasionally be found on eBay and other such auction sites. The rights to the film are believed to have lapsed into the public domain.